Ian Alloway's JMT unsupported speed hike - Sept. 3-7, 2009
Acclimation is the name of the game…

211 MILES--80,000 FEET of elevation change

Acclimation means so much more than altitude. Acclimation is the ability to see a snake run across the trail in front of you and greet it by saying "Hey you fat snake." rather than "AAAAAAAAAAAAAAAAAAAAAHHHHHHHHHHHHHH!!!! …. AAAAAAAAAAAAAAAAAAAAAAAAAAAAAAAAAAHHHHHHH AHHHHHHHHHHUHUHUH AHHHHHHHHHHH!!!!" The state of acclimation is to be a part of the mountains. I know that I am acclimated when my mind follows the same flow of productivity as my lungs. Acclimation is comfort. On a trek the wilderness will be your home for a few days (only a FEW, sadly), and if you can't be comfortable in your home, where can you be comfortable?



ACCLIMATING AT 12,2ISH... LOOKING UP AT MT. MUIR FROM WOTAN'S THRONE |||T-MINUS 2 DAYS|||

I became acquainted with the JMT speed record when an orange and indefatigable flash passed my family and I on our way into the Whitney Zone in August 2007… WAS THAT A MACHINE? No. That was Michael Popov in full stride… minutes later Aaron Sorenson flew up the same slope… was it a race? A chase? A bet? Whatever those people were doing, it looked fun.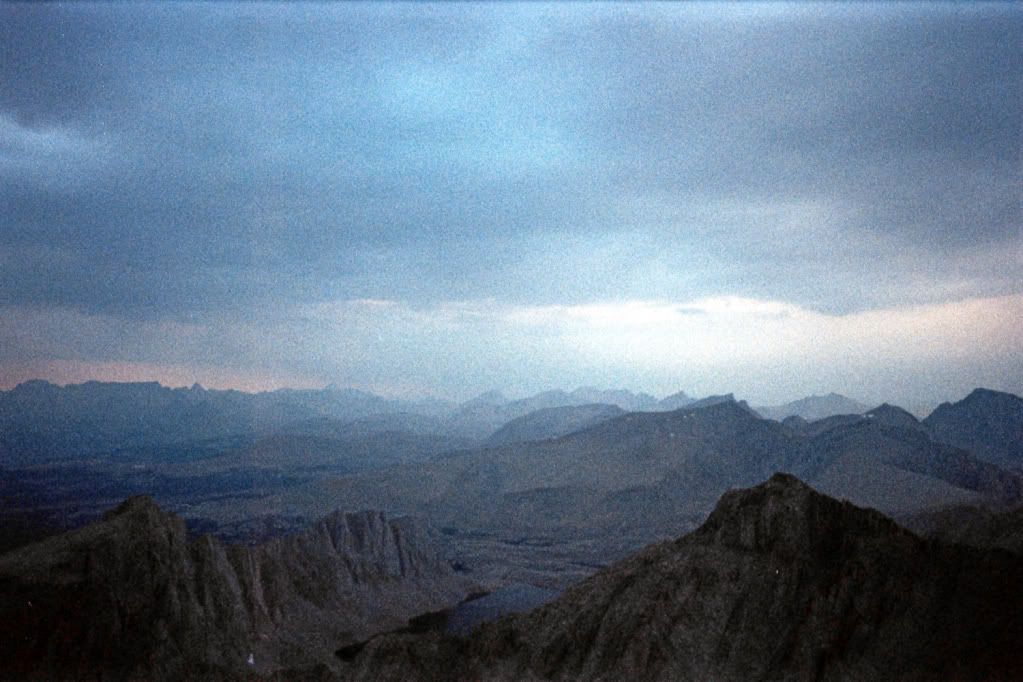 A STORM OVER MT. WHITNEY SUMMIT 14,500 THE NIGHT BEFORE THE RACE... SNOW FLURRIES AND THUNDER

I found out exactly what they were doing at 6am on Sept. 3 2009.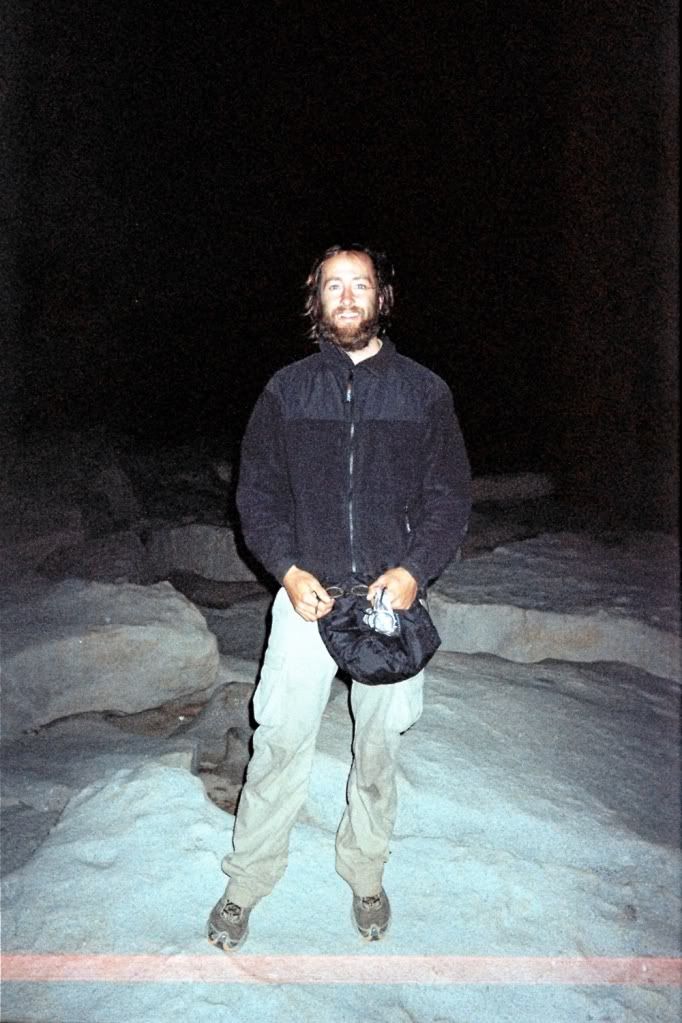 ON THE MORNING OF THE RACE MOMENTS BEFORE IT BEGAN



MT. WHITNEY TO PINCHOT

The crowd gathered on the MT. WHITNEY SUMMIT (((6:00 9/3/9 000:00 000 MILES))) to watch the sunrise, but I had no time stare at our star, I only required its first light... SIX AM clicked, the trail was illuminated and I sped down towards TRAIL CREST. As I considered my pace, I half-heartedly lamented the lack of conventional aesthetics in my endeavor. If I was to know beauty on this journey it would not be through sightseeing or the visions of an alpine spectator--it would be through movement, through will, through decision, through focus. If I was to know beauty it would be only by honing myself against the brutal terrain and through my exposure to the wild elements of the range, it would only be by discovering the depths of my will and drowning my body in it. I had to control my excitement, and keep my speed in check as I danced down the shattered slabs. I was a machine now and that WAS the beauty I would know. I tried to remember exactly what terrain and slopes I had reserved my speed "gears" for. I couldn't believe that this was happening, I was running THE GREATEST RACE EVER: the sport of the canyon kings.

I hit TRAIL CREST in a flash and, peaking at 7.6mph, I dropped down the switchbacks to GUITAR LAKE (((7:10 9/3/9 001:10 005 MILES))) and refilled my 2L hydro bladder at the tarn above GUITAR. I descended further and followed the trail wrapped around the lake, mistakenly reasoning that the trail that split above the lake only lead to more campsites. I had, in fact, taken the the access trail around GUITAR and that trail soon vanished. I could see TIMBERLINE LAKE below so I descended the slabs Westward and paralleled the JMT/HST for several minutes until I could intersect the trail by crossing a damp meadow that laid between the two waypoints. I followed the trail West to TIMBERLINE LAKE and descended further to CRABTREE MEADOW JUNCTION (((8:00 9/3/9 002:00 007 MILES))).

I was satisfied with my pace and was reveling in the excitement of the event. I reflected how two years earlier, when I was in a completely different physical condition I had watched THE GREATEST RACE EVER pass me by. Now I was IN the race saying: "YOU WILL NOT PASS ME AGAIN", just as if I had been racing on that day.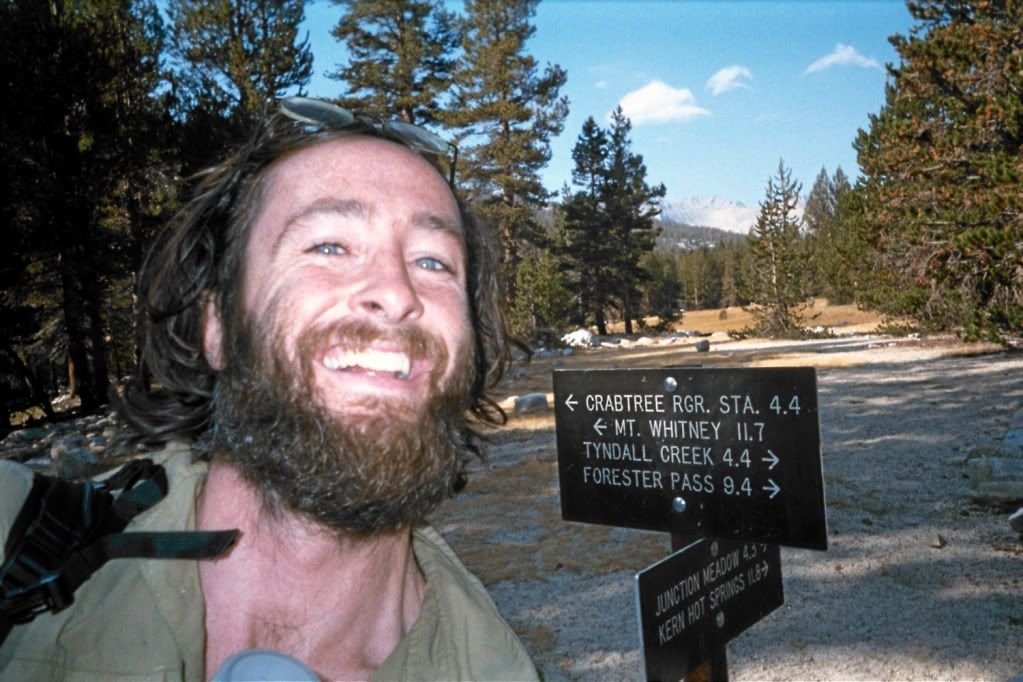 THE FIRST PHOTO OF THE RACE

It was the discouraging words of some Venice Beach Ex-cop on MT. WHITNEY that pushed me quickly towards the drainage between FORESTER and GLEN... he said that there was a hurricane off Baja California and that I should I should actually abandon the race just minutes before it was to begin. He began analyzing my gear or lack thereof... NO TENT? NO GORETEX? USING GOOSE DOWN? Having no time for this negativity, especially from a lowlander, I cordially let the weighted door of the WHITNEY HUT shut between us after saying to him "THAT'S NOT THE WAY IT WORKS". Not wanting to be a fool though, I did take his warning to heart... so I knew about the weather... great... but I had not actually designed an eject button in my shiny new Sierra jet, it only had a throttle and with a 'twist of the wrist' I powered over FORESTER PASS (((13:00 9/3/9 007:00 021 MILES))), summiting it with surprisingly small effort in the shade of the ex-cop's clouds. "THANKS FOR THAT OFFICER... IS THAT ONE DONUT-SHAPED?" I thought as I gazed at a cloud in the sky. At the top I chatted with REMY, an accomplished thru-hiker (JMT, PCT, AT, CDT). He and I had raced to the top, with me close on his swift heels. At the top we exchanged information and after photos I apologized for the rush that I was in I dropped down the slope heading Northwards. Gravity pulled me and I pushed, maxing out at 13.6 mph.

***MY APOLOGIES IF MY GPS IS WHACKED, IT'S A MAGELLAN TRITON THAT WILL BE RETURNED FOR VARIOUS INADEQUACIES, I'M ONLY REPORTING ITS PEAK MEASURED SPEED (WITHIN FRACTIONS OF A SECOND)-BY NO MEANS A SUSTAINED MPH, I CAN'T SPEAK INTELLIGENTLY ON IT'S ERROR MARGIN, PERHAPS IT'S THE SIZE OF THE GRAND CANYON?***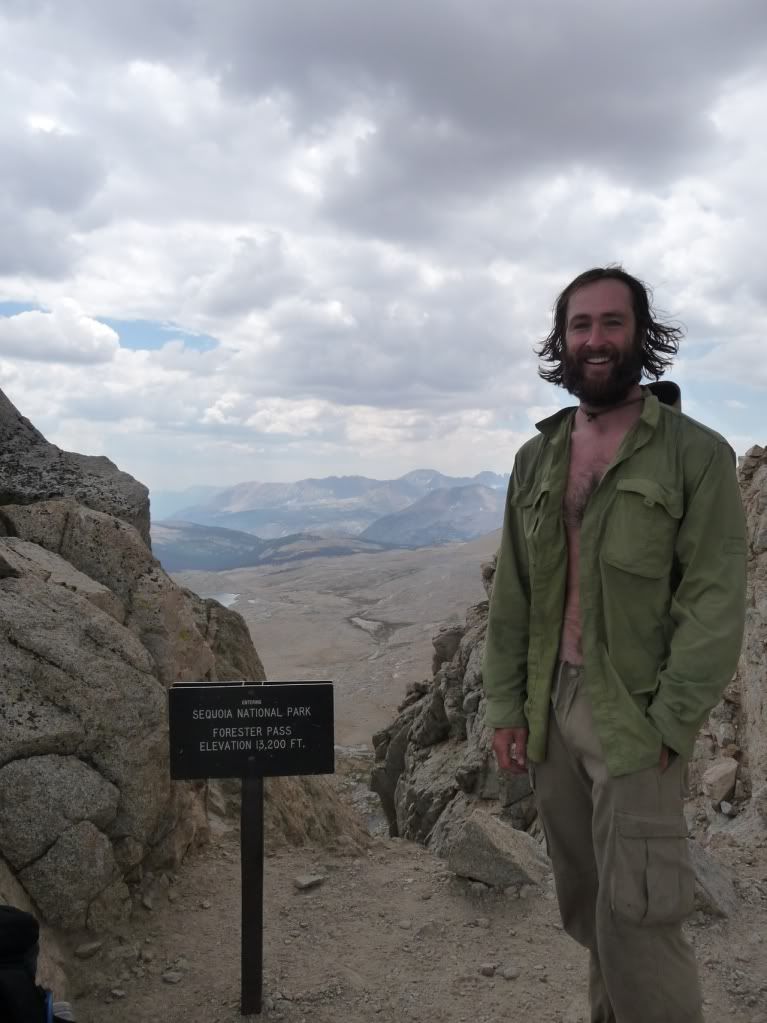 ON TOP OF FORESTER

"HIKER COMING!!!" I passed a large (20+ person) trail crew (I believe CCC was the logo on the shoulder patch) somewhere North of FORESTER PASS I told them that I envied their jobs, they might have been mildly amused if they'd had the time to think about it in between lifting boulders. After passing the detour and making a constant drop into the canyon, I hit the UPPER VIDETTE MEADOW BEAR BOX (((15:15 9/3/9 009:15 027 MILES))) and ate tortilla chips, summer sausage, wheat bread and drank a vanilla whey protein shake. I put my feet up and rested for an hour... I must have only gotten 5 minutes of semi-sleep total, but I did have my first vision/hallucination: a series of two-dimensional nude women moving suggestively on the back of my eyelids, they were made out of pink and purple geometric shapes, like MC ESCHER for adult fastpackers. It was awesome. "I COULD GET USED TO THIS", I mused. My little kitchen timer beeped and the race resumed.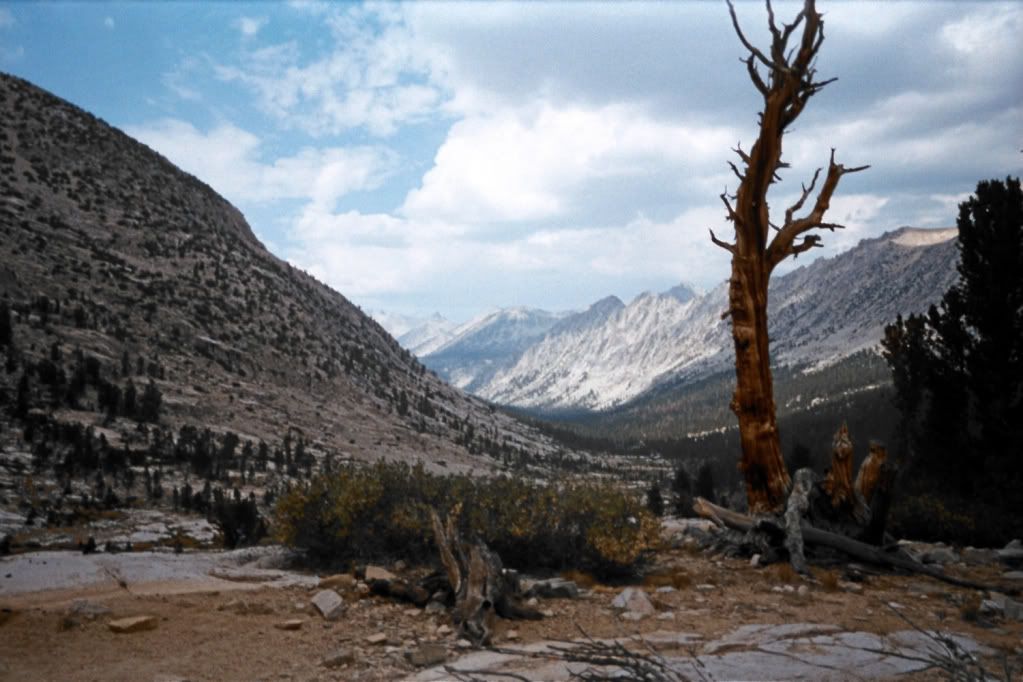 LOOKING DOWN INTO THE DRAINAGE BETWEEN FORRESTER AND VIDETTE... MT. COTTER AND CLARENCE KING SPIKE UP IN THE DISTANCE

After finishing off the balance of the descent to VIDETTE MEADOW (((16:40 9/3/9 010:40 029 MILES))), I climbed the shaded switchbacks to BULLFROG LAKE JUNCTION and finally CHARLOTTE LAKE JUNCTION. I regretted my choice by the UPPER VIDETTE MEADOW BEAR BOX to go for a second helping of the protein shake. The over-sugared eggy goo gummed my metabolism as I ascended towards GLEN PASS. I shiver now as I type this and remember that disgusting stink ruminating in my mouth and weighing in my stomach like a bag of rocks... it was frustrating to think that I had hurt myself as my engine was knocking and pinging on poor fuel.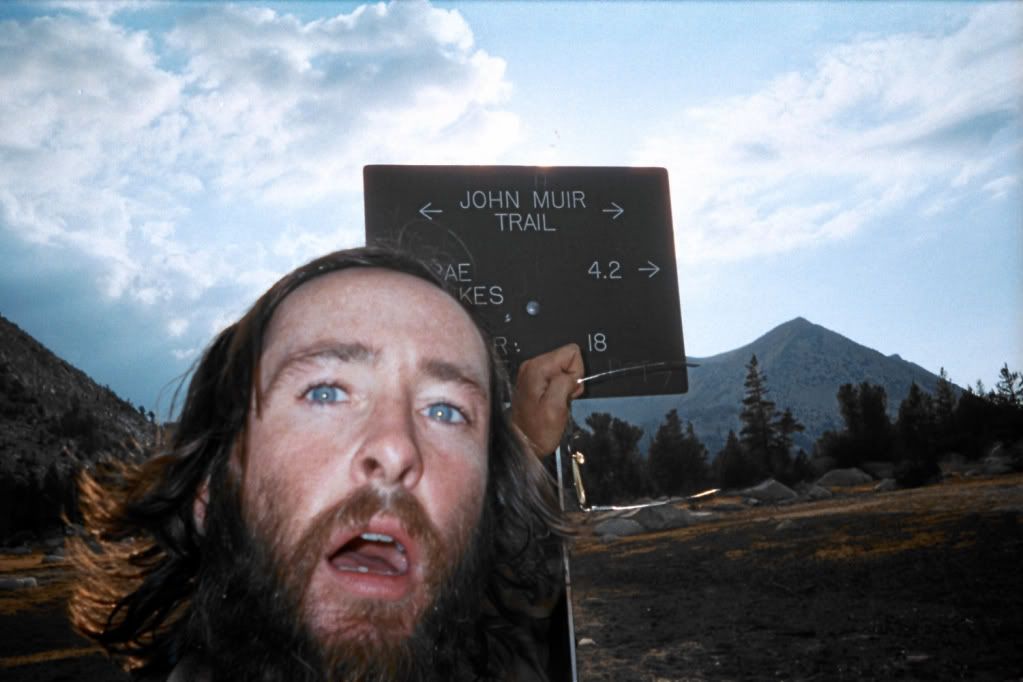 THE SECOND PROTEIN SHAKE AND THE SWITCHBACK CLIMB DRAINING MY ENERGY NEAR CHARLOTTE LAKE JUNCTION

I finally summited GLEN PASS (((18:40 9/3/9 012:40 033 MILES))). The gusty vista raised concerns about the possibility of hypothermia; my whole body was covered in sweat from the ascent and the temperatures were dropping. My shoes were soaked as if I had stepped in a creek, but it was just sweat running down from my upper body and legs.



ON TOP OF GLEN PASS

Night fell near the RAE LAKES RANGER STATION as I continued North towards ARROWHEAD LAKE by headlamp. At the BAXTER PASS JUNCTION (((20:40 9/3/9 014:40 038 MILES))) I ate again (this time I threw an apple down the hatch, hoping that its nutritional authenticity would undo the 2nd vanilla shiver... err... I mean shake) and slept for 1 hour; this time it was real sleep. BEEP BEEP BEEP BEEP... time to wake up the fastpacking turkey in the 0 degree goose down oven. I hit WOODS CREEK BRIDGE (((23:54 9/3/9 017:54 041 MILES))) soon afterwards and began the climb to Pinchot. This was the hardest ascent of the whole trip. I cannot explain it very well, except to say that in the middle of the night, when climbing the third pass for the day USGS mileages seem like utter bullshit, not to mention just plain cruel. I finally passed the SAWMILL PASS JUNCTION (((01:50 9/4/9 019:50 045 MILES))) and marveled again that I had not even gone 4 miles yet since the WOODS CREEK BRIDGE. "UPANDOVER" I told myself. I summited PINCHOT PASS (((03:45 9/4/9 021:45 049 MILES))) with my headlamp off, I had no need for it with those luxurious lunar lamp lumens lighting my path. I descended no more than 10 switchbacks on the North side and ate my dinner (the classic fare) and slept for 2:30 hours.



BY THE WOODS CREEK BRIDGE... IT'S ONLY THE MIDDLE OF THE NIGHT



PINCHOT TO MUIR PASS



BELOW BENCH LAKE... FLYING TWOARDS MATHER PASS... THAT WAY, SPECIFICALLY

I awoke with the sun out and dropped into BENCH LAKE. An early-rising South-bound couple wondered where I had come from the night before and were surprised to hear "PINCHOT PASS". I hit MATHER PASS (((10:40 9/4/9 028:40 058 MILES))) at a nice time of the morning without much heat in the air. The clouds above concerned me greatly though. Even still, at the first spring that I came to I took a moment to wash my face and clean off the dried gooey honey patches in my beard. Honey was my running fuel. I felt like John The Baptist (gimmee some locusts!!!). I refilled my H2o bladder and continued North.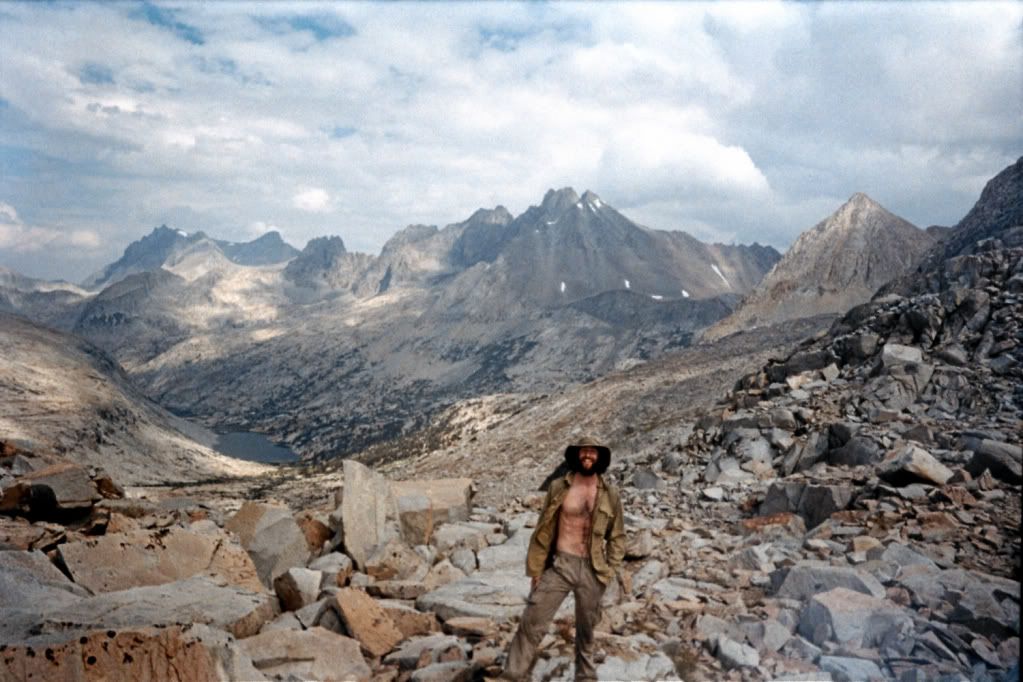 ON TOP OF MATHER PASS

While dropping down the switchbacks from LOWER PALLISADE LAKE towards DEER MEADOW the heavens opened (well they weren't really being heavenly at the time). The thunder crashed in sync with the flashes of light, it was simultaneous, and all the rage of Baja was above me! Soft chunks of ball-bearing hail pelted me and the booms pushed me hard down the trail; harder than I've ever been pushed before. My speed peaked at 14.8 MPH as I throttled full down into the canyon below.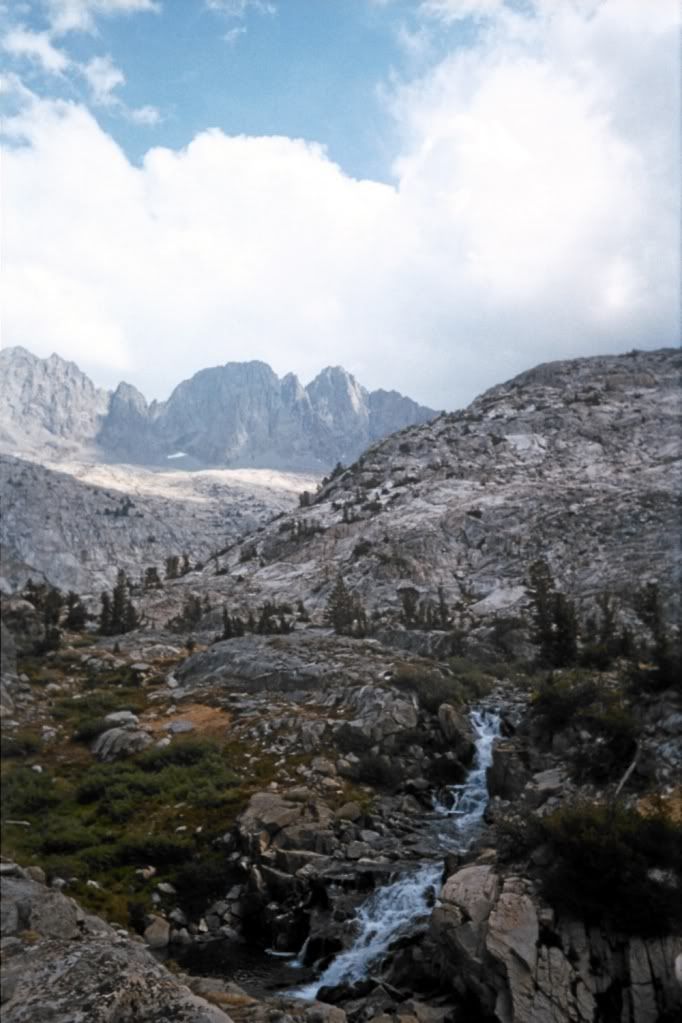 BELOW THE LOWER PALISADE LAKE... MOMENTS BEFORE THE STORM BROKE OPEN

"IT REALLY SUCKS" I thought to myself moaning about the rest that I had promised myself to get in DEER MEADOW and now was not going to have because of the weather... moaning about the new tape job that I was going to have to give my feet with my thinning roll of duct tape... just moaning. I was pretty beat down in spirits, but when I finally hit DEER MEADOW there was a South-bound hiker who from a distance saw me and said "ARE YOU IAN?" That made me feel like a superstar! How does she know my name? It was Susan, BPL forum member who I had met 7 days before when I was training near MAMMOTH. I quickly cheered up and gave her a positive report on my status and conveyed my optimism about my pace. We parted ways and as the race continued I passed BISHOP PASS JUNCTION (((16:00 9/4/9 034:00 072 MILES))) and moved on through LE CONTE CANYON until the climb up MUIR PASS.

On this climb up MUIR PASS, I discovered new cunning deceptions in the path. One point at a creek crossing there is actually a parallel and redundant trail. I played its game for only a minute and realized that I was actually hiking back South down away from MUIR PASS instead of towards it. It seems like the original trailblazers were just as confused as the hiker victims that they trick daily on this "path". Because I had missed the rest cycle in DEER MEADOW I found myself incredibly fatigued and grumpy, at several points I was on all fours crawling and cursing up the trail to the pass. Finally, I summited MUIR PASS as the sun displayed the last of its beautiful colors... its final aid of kindness to me, the weary fool on all fours. I ate and slept for 2 hours in the MUIR HUT (((19:48 9/4/9 037:48 080 MILES))) and then crunched across the 1 inch snow cover around the exposed lakes North of the hut.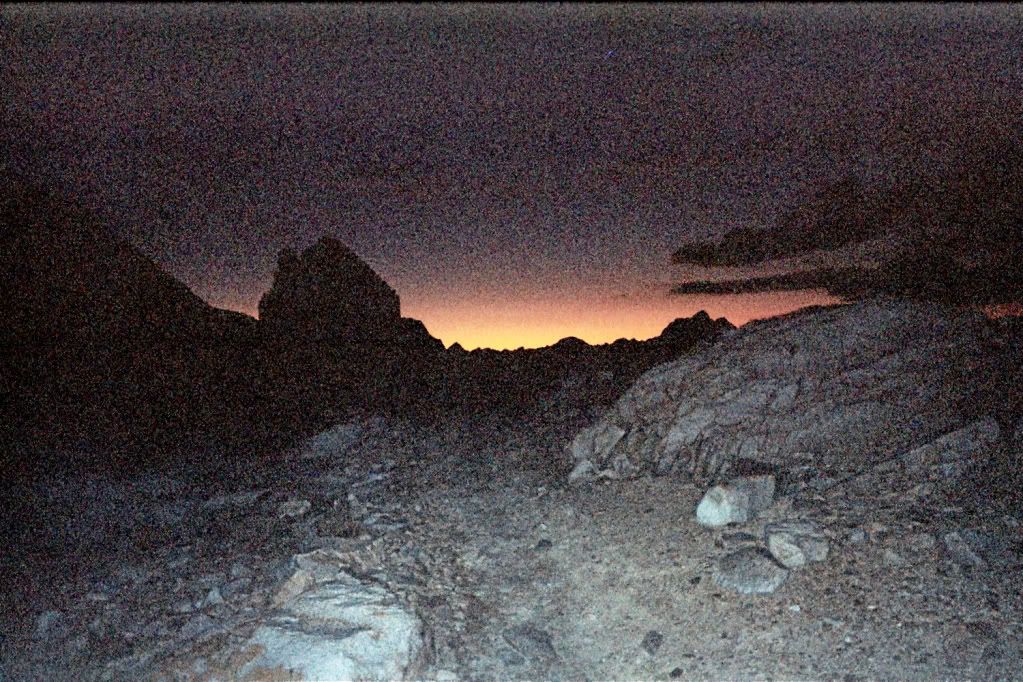 CRAWLING UP TO MUIR



MUIR PASS TO SILVER PASS

I slept in COLBY MEADOW for 1 hour. It was in fact just as, if not more, cold as the high EVOLUTION LAKE region. I pressed on past the MCCLURE MEADOW RANGER STATION (((03:30 9/5/9 045:30 090 MILES))) and hit the famed EVOLUTION CREEK CROSSING (((04:28 9/5/9 046:28 093 MILES))), for some reason I didn't think that I was really going to have to wade through it. Dude was I wrong. I took my shoes and pants off so that I didn't create a hypothermia liability later and unfortunately (if you know what I mean) the icy water was just below the waist. "GOOOOOOOOD MORNING EHHHHHVOLUUUUUUUUTION, YES!!!" I drip-dried and tried to clear my feet of the tiny rocks by washing them off with the hose from my H2o bladder before returning them to the relative warmth of my socks and shoes. I crashed at GODDARD CREEK JUNCTION (((05:22 9/5/9 047:22 094 MILES))) for 45 minutes and then rose again pressing on to PIUTE CREEK JUNCTION (((07:55 9/5/9 049:55 097 MILES))). The hikers had begun to stir in their camps, some even began to hit the trail.



THE NATIONAL PARK/NATIONAL FOREST BOUNDARY NEAR MUIR TRAIL RANCH



SEEEEELDEN!!!

I passed a chubby hiker with an ankle dagger and a cute chubby brown Labrador on the way up SELDEN PASS (((11:38 9/5/9 053:38 107 MILES))) and dropped into the next drainage until the ROSE LAKE/SANDPIPER LAKE JUNCTION (((12:30 9/5/9 054:30 109 MILES))). I rested and ate there for approximately 15 minutes. Northwards I pressed to BEAR RIDGE JUNCTION (((15:55 9/5/9 057:55 116 MILES))) My right knee began to groan at me... it was a motorcycling injury from last year that liked to remind me that being on a public roadway is foolish and unnatural and that it is even more so stupid on a sportbike. I found an awesome stick name "STICKY" and told my knee that it could "fuck off" with its lectures. My new best buddy and I hobbled down the switchbacks to QUAIL MEADOWS (((17:26 9/5/9 059:26 120 MILES))).



BEAR CREEK JUNCTION... JUST BEFORE THE ENDLESS SWITCHBACK DESCENT



SILVER PASS TO DONAHUE PASS



ME AND "STICKY" HOLDING UP THE SIGN AT SILVER PASS

Near the summit of SILVER PASS a spot of my stomach lining finally thinned under the Ibuprofen beating of the past days and revealed an ulcer. I suddenly had an intense aversion to water. This was problematic considering the high percentage of my body that is actually made of it. I swished water in my mouth and summited SILVER PASS (((20:28 9/5/9 062:28 127 MILES))) "UPANDOVER" down towards TULLY HOLE JUNCTION I stepped deeply into a pool of crystal clear (but thoroughly evil) water in the middle of the trail. In my best attempt to be good-humored I laughed and STICKY and I headed towards TULLY HOLE JUNCTION. At some point STICKY slowed my descent too much and I threw him over the switchbacks, just like I do anyone who gets in between me and my goals in the backcountry. "GOOD TIMES STICKY. HOPE YOU LIKE YOUR NEW HOME! ARE THINGS GREENER ON THIS SIDE?"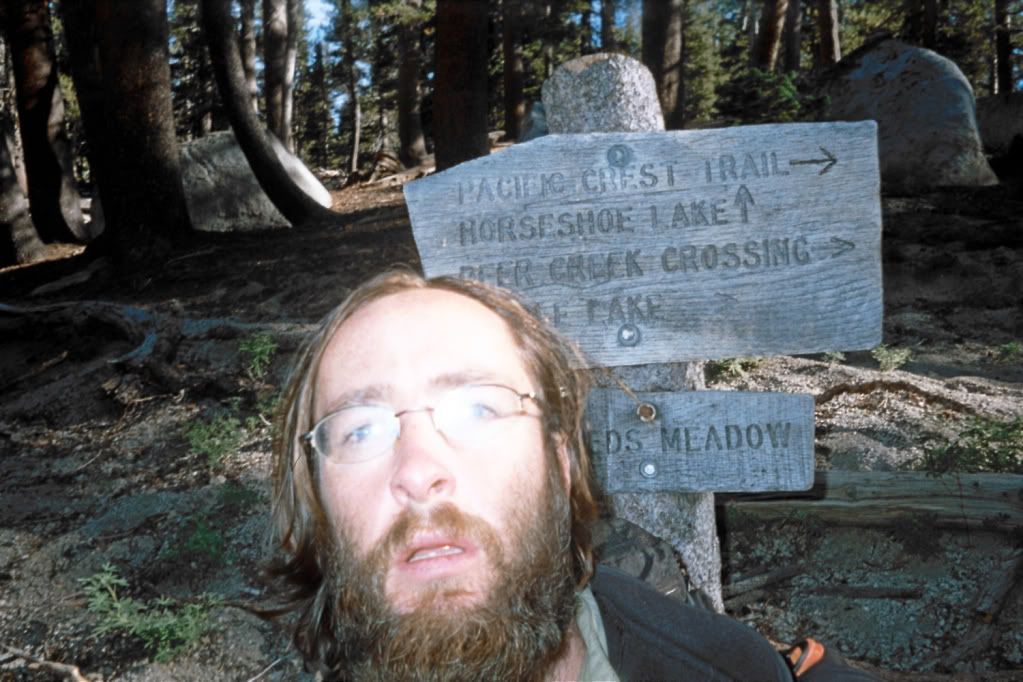 DRAINED NEAR RED'S... ENJOYING THE BEGINNING STAGES OF DEHYDRATION

Just below LAKE VIRGINIA (((01:30 9/6/9 067:30 134 MILES))) I slept for 1:30 Hours and then continued on to DUCK PASS JUNCTION (((04:45 9/6/9 070:45 138 MILES))) and slept for another 2:00 Hours. I hit RED'S MEADOW (((10:04 9/6/9 076:04 150 MILES))) in the mid-morning and rested again at GLADYS LAKE for 30 minutes in the mid-afternoon. My aversion to water was strong because of the stomach discomfort every time that I actually swallowed it. I estimate that I swallowed no more than 2.5-3 liters of water after RED'S MEADOW for the remainder of the journey to HAPPY ISLES (such a cruel name). This situation would prove to be the great granite wall that my Sierra jet would repeatedly crash into for the rest of the race. I was powering through pain and fatigue but the discomfort of my stomach did more than just distract me from my focus, it slowed me down and stole power from me. Right or wrong, I decided at that point that I would consume the minimal amount of water necessary in order to make my engine run. As a result, the fatigue thickened within me and I began to feel a limp-inducing cramp in my left calf. I rested again at 1,000 ISLAND LAKE (((17:03 9/6/9 083:03 165 MILES))) for 1 Hour.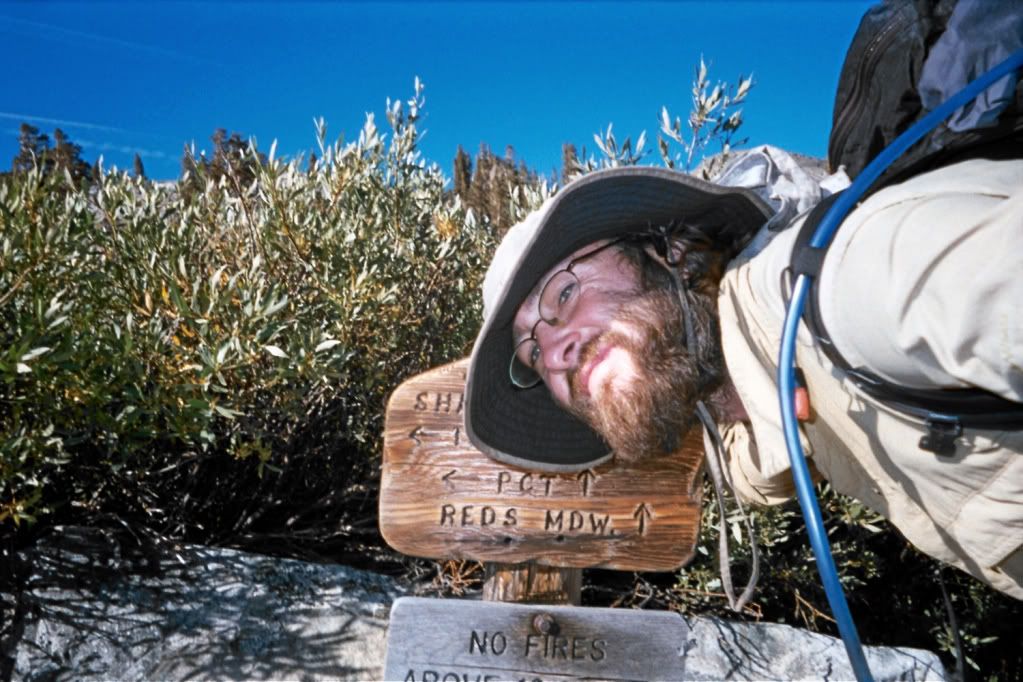 NEAR SHADOW LAKE JUST MAKING IT HAPPEN



DONAHUE PASS TO HAPPY ISLES

I summited DONAHUE PASS (((21:15 9/6/9 087:15 172 MILES))) in the dark, after briefly losing the trail in the grass below the pass. I dropped into LYELL CANYON and ran as quickly as possible, making the most of gravity's gift wherever the terrain allowed. Safety was not foremost on my mind, just TICK TICK TICK TICK TICK... LYELL CANYON was frigid and creeping fog banks foiled the LED beam of my headlamp, and when this was not the case, my own breath obscured my vision. I switched to the XENON beam on my lamp and this adequately cut through the white noise in front of my face.



THE GHOSTLY WIZARD OF LYELL CANYON

In the wee hours of the morning I knocked on the reservations office door of the TUOLUMNE HIGH SIERRA CAMP (((02:00 9/7/9 092:00 184 MILES))) seeking direction. I put my freakishly bearded mug up to the glass along with the the 'wrapping at the chamber door'. An unfazed lady named Joyce said "THE DOOR'S OPEN". "WOW!" I thought to myself. It was 2 am and she was not threatened, but in fact incredibly helpful. After I posed my questions, she called in a kid named Reggie to also contribute: "WHERE IS THE JMT? WHERE IS THE CATHERDRAL LAKES JUNCTION?" I had 9 hours left on my clock to get to HAPPY ISLES. After some explanation and a declined car ride offer, I left armed with information. I also began a new experimentation in 2L of chlorinated tap water that I thought might help my severe hydration issue (it didn't).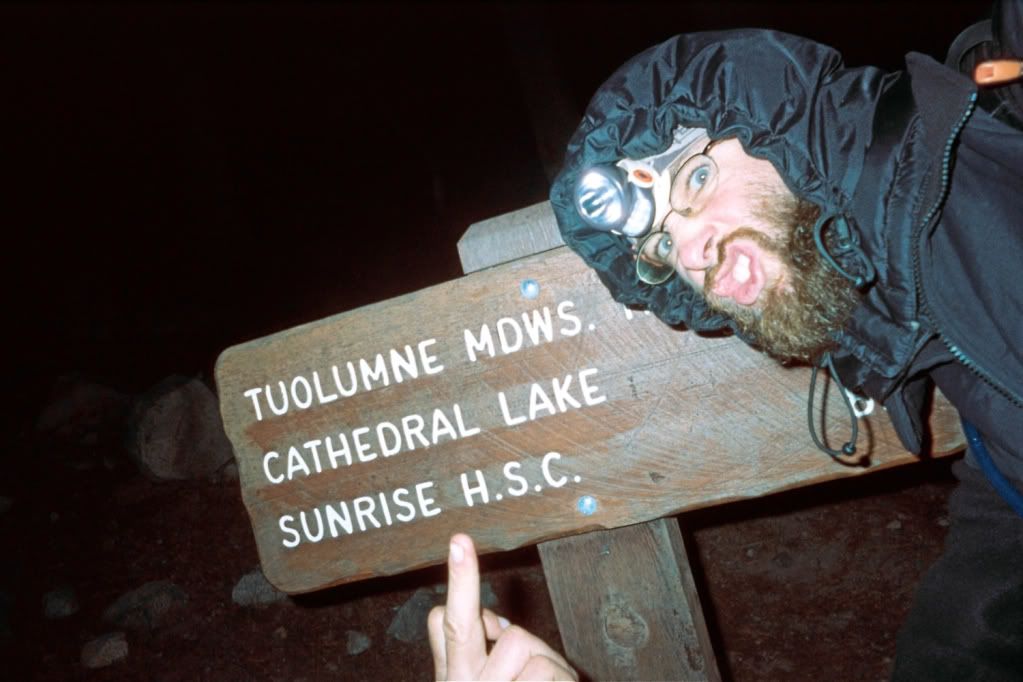 I HATE THIS JUNCTION!!!

I hit the CATHERDRAL LAKES JUNCTION (((02:40 9/6/9 092:40 187 MILES))) and proceeded up the dirtiest, deepest, darkest slog of them all. The aural hallucinations began in full force, I heard Hawaiian crooning in my head "AAAAHhhh OOOOOwwoooo Wooo..." My head and heart bent along with the madness and I sang along with it as I climbed. "AAAAHhhh OOOOOwwoooo Wooo... HEY BABY WHATEVER IT TAKES TO GET ALONG THROUGH THIS!" I sang to myself. In fact, it was the same song that I was hearing in LYELL CANYON. After some time though, just for the sake of scientific validation, I removed my goose down hood and stopped. "AAAAHhhh OOOOOwwoooo Wooo... AAAAHhhh OOOOOwwoooo Wooo..." There it was... I KNEW I knew that sound... I wasn't a nutter after all: it was coyotes calling to each other across the canyon, and they had been doing it all night! I kept my hood off for what I took to be the hero's serenade and continued climbing. Twice during my slog up CATHERDRAL PASS I just stopped and laid down in the middle of the trail on any large rock islands in the dusty sea. Both times were 5 minute periods. Following the last of these sessions, I sat down in the dark with my head in my hands in order to take in the entire journey and savor it before it ended. It was practically a moment of paralysis, but it seemed necessary. A curtain of pink and purple jewels returned behind my eyelids and then hung in front of me with my eyes open in the night. "HELLO LADIES ARE YOU THERE?" Sadly the sirens of VIDETTE could not be summoned through the veil.

I hit SUNRISE LAKES JUNCTION (((07:03 9/7/9 097:03 195 MILES))) appropriately enough at sunrise. I saw a throng of coffee cup-wielding High Sierra Campers gathering on the cliff above the meadow in order to see our rising star... as I left the meadow I heard the camp bell ring and some DNC employee kid yell "GOOD MORNING SUNRISE!!! BREAKFAST IS READY!!!" A final fantasy of waffles, syrup, eggs, bacon, ice cream, cheeseburgers, cream-filled eclairs and on and on and on danced inside my head.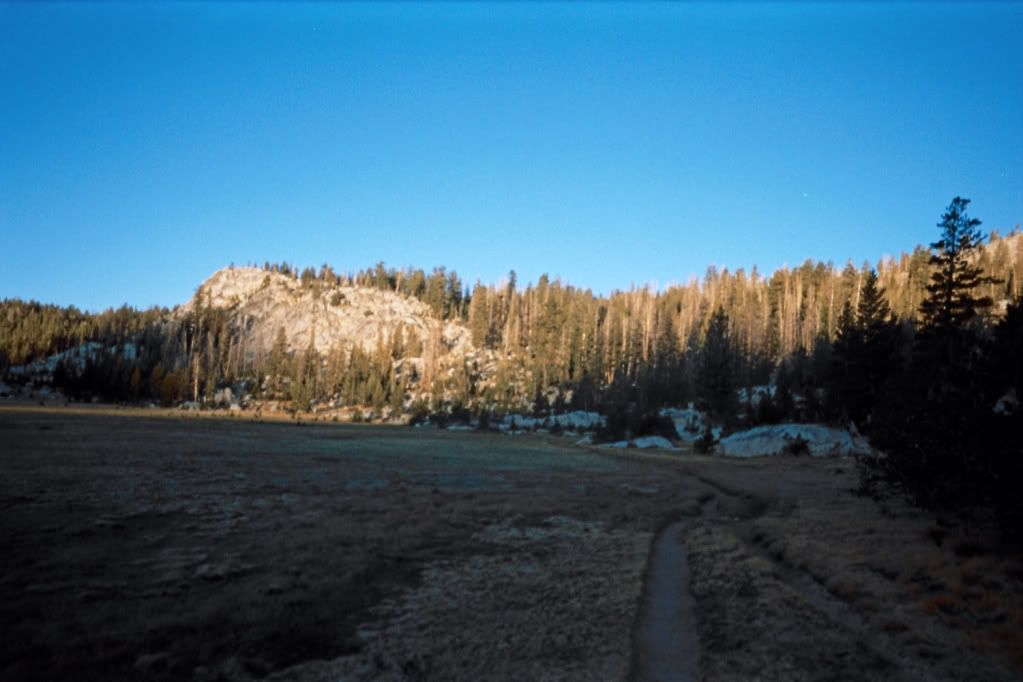 SOMEWHERE UP THERE WAS A BUNCH OF YUPPIES WITH COFFEE...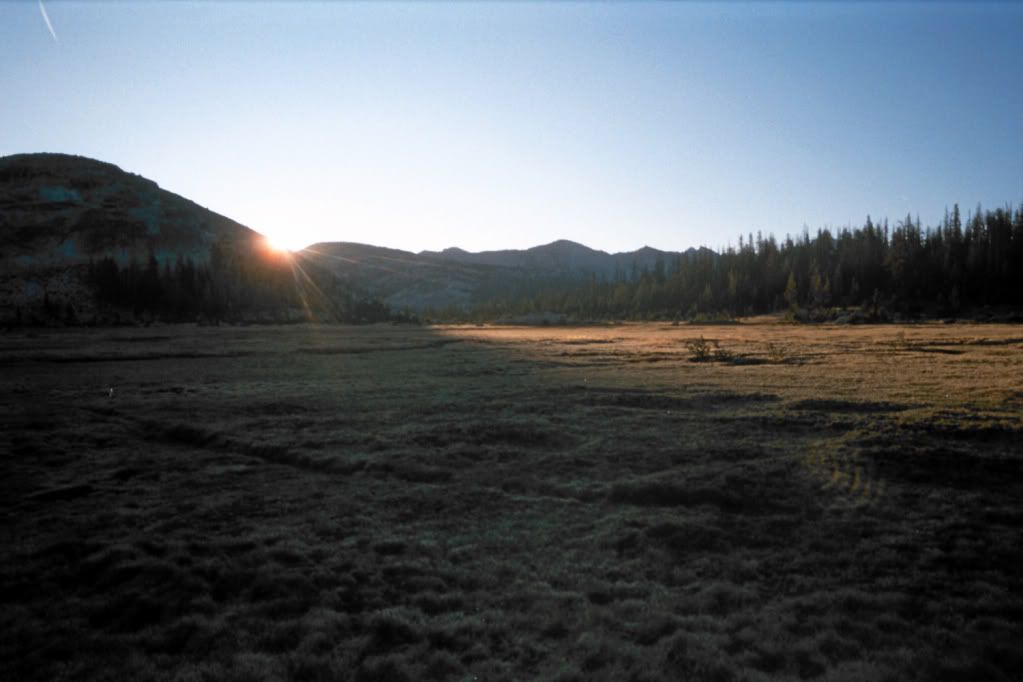 OUR RISING STAR OVER SUNRISE

The long night and the water drought inside my belly weighed heavily upon me. What was once a cramp in my calf was now an incredibly taut trigger point disabling my left Achilles tendon. Now my Sierra jet had a flat tire. I reached a max speed of no more than 3 MPH. I felt quite neutered and subdued... it was an iron ceiling that no focus or determination could break through. I told myself that I would let gravity pull me down to HAPPY ISLES. I craved the drop that the elevation had in store for me. I felt my lead on Michael slipping. It was getting embarrassingly close to the deadline. The pride of the massive lead that I had imagined that I would gain on Michael's record was fading! "RUN FOR PRIDE! RUN FOR DIGNITY!" I screamed inside my head. "I DON'T GIVE A SHIT WHAT FOR JUST RUN! RUN! RUN! RUUUUUUUUUUUUUUUUUUN!"

I hit the HALF DOME JUNCTION and finally began running. I maneuvered through the ascending/descending bodies as deftly as I could with a busted Achilles tendon... at this point my GPS had ran out of batteries, but by its standards, I must have peaked near 16 MPH. I knew that this drop would be my finest moment. It had been my strategy all along. I was going to do it! I was so close! And then all of a sudden near LITTLE YOSEMITE VALLEY JUNCTION the terrain leveled and became sandy. "NOOOOOOOOOOOO!!!" Gravity, the only ally that I had known since dear STICKY had just left me and it was now my adversary. I started walking quite slowly... no more RAGING RACER dodging rocks and people in the trail. I looked for sticks to help me I picked up one and hobbled along until it broke, replacing it as fast as possible with another weak one that would only break again. I remembered Michael talking about tears at HAPPY ISLES and this was something that I had boasted to myself that I wouldn't do. But I found myself incredibly weak at that moment and I wanted so badly to see my family and my girl Tanya. I was so close! Where were they? I needed their help! Then I laughed and remembered that they couldn't help me anyways.



FALLS NEAR THE END

I finally reached the restrooms near the falls and opted for the footpath route (2.5 Miles vs. 4.0 Miles of the paved route). I let the rushing air dry my tears and used all my limbs to move down the path and chase one false finish after another, dispensing the limitless reservoirs of politeness that I had for ascending hikers by yielding to them (I'm such a pushover!). I finally hit the paved path and started sprinting with rapid breathing, snorting like a bull. I didn't care what the comments were, I didn't care that I had forgotten to wear my Mickey Mouse ears, designer eye shades and stinky colognes like everybody else seemed to remember. I had just come from another planet... one called MT. WHITNEY. Considering its strangeness it was relatively close for an outter space destination, it was only a 211 miles jaunt South of there... only 4 DAYS 5 HOURS 5 MINUTES away to be precise. And if you were there at 11:05 AM 9/7/9 you would have known that for sure and you would have also known why they call it HAPPY ISLES (((07:03 9/7/9 101:05 211 MILES))) (a perfect name)!!!



4 DAYS 5 HOURS 5 MINUTES | 211 MILES | 80,000 FEET OF ELEVATION CHANGE | LOTS OF HORSESHIT AND LOTS OF FUCKING ROCKS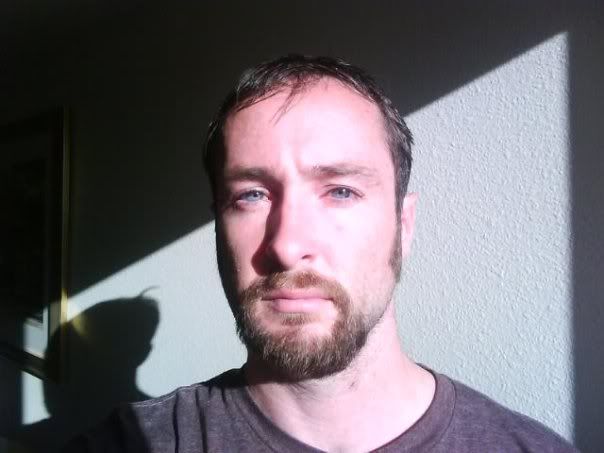 SAMSON DEFANGED... WITH THE REAL MOUNTAIN HARDWEAR GONE, A SAD DOMESTICATED CITY LOOK SINKS INTO MY EXPOSED, DE-ACCLIMATED SKIN